Pasteurizer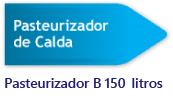 Industrial Use
The technology used in the construction of the PASTO.B series pasteurizers ensure an efficient pasteurization process.
Heating is done by a gas heater, with water circulation formed by a closed system pump.
After the end of the cycle, the solution can remain in the equipment in the maturation function, with a temperature between 4° and 6°C.
The action of stirrers and emulsifiers provides for the homogeneous incorporation of ingredients.
Structure, coatings, mechanisms and piping are made of 304 stainless steel. The structure is built foreseeing the installation of a liquid transfer pump, which can be purchased optionally with the equipment, or at a future time.
The refrigeration system uses a hermetic compressor, water-condensing, R-22 softy drink gas.
With the experience of over 30 years in the construction of ice cream machines, Bertollo uses in the manufacture of its equipment a water condenser, Shell, and Tube type, designed and manufactured by Bertollo.
State-of-the-art technology to maximize the efficiency of heat exchange processes, such as the use of finned tubes, materials with thermodynamic efficiency, with access to its interior for maintenance and cleaning.
Process actions are all controlled by a programmable logic controller with an easy-to-operate interface.