Pasteurization System
Industrial Use
Compact pasteurization systems are an excellent option for small production plants.
The only fixed component of the equipment is the gas heater, boiler, responsible for the heating process. The production unit has a base with swivel castors, with a brake, which provides versatility in the assembly of new plant configurations.
Structure and coatings made of 304 stainless steel. Devices, piping, and valves manufactured in stainless steel, with sanitary standard.
The heating tub is equipped with stirrers and emulsifiers, which make it possible to mix and homogenize the ingredients.
The cooling tub is equipped with at least 2 agitators. In addition to quick agitation to cool the syrup, a low-speed reducer is attached, allowing the tub to be used as a maturation tub.
Refrigeration system with hermetic compressor, R-22 softy drink gas.
With the experience of over 30 years in the construction of ice cream machines, Bertollo uses in the manufacture of its equipment a water condenser, Shell, and Tube type, designed, and manufactured by Bertollo.
State-of-the-art technology to maximize the efficiency of heat exchange processes, such as the use of finned tubes, materials with thermodynamic efficiency, with access to its interior for maintenance and cleaning.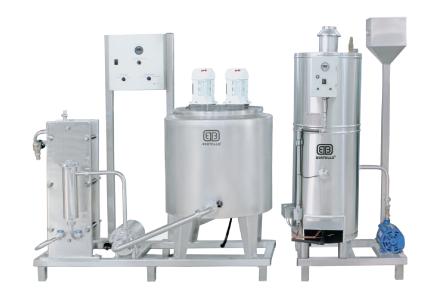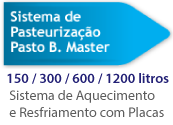 Industrial Use
PASTO B MASTER pasteurization systems, are true production lines of high capacity and efficiency.
Each version consists of a set of equipment.
In the pasteurization unit, heat is generated by a gas heater (boiler), and a pump for circulating hot water between it and the heating tank.
The heating tank, made of 304 stainless steel, has a hot water circuit built into its walls, Halph Piper system.
The tank is also equipped with agitators, emulsifiers, and a transfer pump. All devices, piping, connections, and registers are made of 304 stainless steel, sanitary standard.
Once the proper temperature is reached, the grout transfer can begin.
The transfer pump forces the heated product through the heat exchanger, which is permanently cooled by an ice water bank.
The efficiency of the BAG line chilled water banks and the heat exchanger, ensure the reduction of temperature, finishing the pasteurization process.