Maturation Tub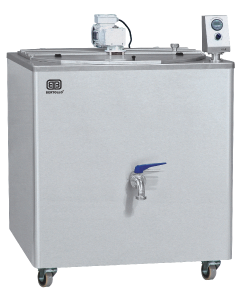 Industrial Use
The technology used in the construction of the TMB series maturation tubs guarantees an efficient maturation process.
The temperature is controlled by a micro processed electronic thermostat, which keeps the syrup between 4º and 6º, with slow stirring.
Base with swivel castors, with brake. Structure and coatings made of 304 stainless steel.
Tank built in stainless steel 304, thermally insulated with polyurethane, and agitator activated by a gearmotor.
Refrigeration system with hermetic compressor, R-22 softy drink gas.