Dispenser and Packaging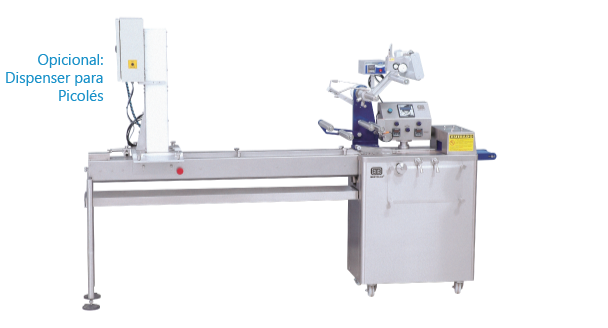 Industrial Use
Bertollo Ice Cream Machines Industry offers a line of packaging machines with Flow Pack technology with a wide variety of models and features.
It offers from simple equipment, with fixed speed and length, to fully automated equipment, controlled by a programmable controller.
The products are taken to be sealed in a rigid ruler, built in 304 stainless steel, with cleats mechanically pulled by a 304 stainless steel chain.
The 120 series versions have three models, they now have adjustable speed and fixed or adjustable length and are controlled by a programmable logic controller or not.
All packaging machines have the structure and coatings made of 304 stainless steels, optionally equipped with a rotating thermal dater (manufacture and validity). Cylinders, guides, and stretchers are manufactured in stainless steel 304, and keep the package perfectly aligned and tensioned from the coil until being sealed.
Industrial Use
The DPB Popsicle Dispenser is an indispensable device for automated popsicle packaging processes, ensuring the supply of the automatic packaging machines.
The Dispenser devices are controlled by a programmable logic controller. The working speed is controlled by an optical sensor, which automatically synchronizes the speed of the Dispenser to the speed of the packer.
A programmable logic controller allows for the appropriate adjustment to the speed of the packaging machine.
Its design allows that a mould with 18, 26 or 28 popsicles be placed simultaneously in the Dispenser, and the action of a pneumatic piston places one by one, in the right position and at the right time, on the feeding conveyor. Works with one type of shape.
Made of polyacetal coated with 304 stainless steel, it fits perfectly in the feeding conveyor of any Flow Pack packaging machine.