Popsicle Machine: Buy Pneumatic Pointer Come and Go from Bertollo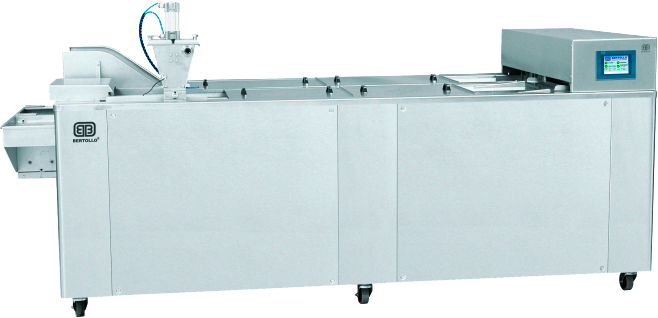 Need to purchase a quality popsicle machine?
The Come and Go Pneumatic Tip supplied by Bertollo has a cooling tank made of 304 stainless steel, thermally insulated with expanded polyurethane.
The used ethyl alcohol refrigerant fluid can completely fill the tank and remains in direct contact with all forms and the copper coil. In addition, thermal balance is fully guaranteed due to the action of mechanical agitators that are manufactured in 304 stainless steel with mechanical seal sealing.
Through a set of pneumatic triggers, the shapes are moved and controlled in an automated manner. After the freezing process, the forms are suspended on a ramp for the exit and recovery of the alcohol.
The Pneumatic Tip Come and Go is equipped with a shape de-former, and both the de-former and agitators, pneumatic actuators, pump, and cooling system are controlled by a programmable logic controller (PLC), touch screen type with safety optical sensor.
Checkout the technical specifications of the product below:
Pneumatic Pointer Back and forth: Click here to learn more!